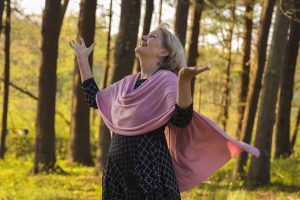 Click photo for video!
PURPOSE: To practice and gain mastery of PLAY in the flow of presencing, connect and play.
PREPARATION: Gain clarity about your motivation to engage this practice. Why does mastering Play (Presence/Connect/Play) matter to you?
Minute one: Presence your body and mind with a body scan.
Minute two: Connect to the intimacy of this moment.
Minute three: Move directly from connection to playing with the energy and vitality of this moment without expectation of something happening. Allow spontaneous action to arise with curiosity.
Minute four:  Be in this moment and the next by giving energy with an open heart, spacious belly and bright mind. What lights you up? What makes you smile?
Minute five: Stay awake to what matters deeply to you as you stay present, connect deeply and play with a fresh response.
Complete your practice by recognizing the essence of play is how we engage life – with openness, light-heartedness, meaning and energy. Presence, connect and play is an essential practice for current events and for our ability to navigate them well.