5-Minute Try It: Presence. Connect. Play.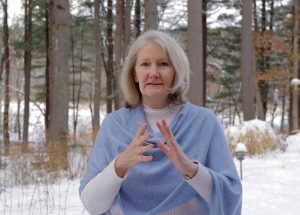 Click photo for video!
PURPOSE:  Life begins with presence, the ability to be completely here with whatever is arising. This month we begin a series of practices that align with a vibrant way of orienting to life developed by Kathlyn Hendricks, Ph.D. We experience a taste of Presence. Connect. Play.- with our hands to become familiar with the practice. In the following weeks, we will unpack each aspect of this practice and bring it all together at the end.
PREPARATION:  Get willing to open and move through the world in a more joyful engaging way.
Minute one: Bring your non-dominant hand in front of you and begin to saturate it with attention. Notice the sensations that arise in your hand as you give curious attention to your hand.
Minute two: Engage your other hand by bringing it up closer to your first hand. Compare and contrast the felt sense of each hand. Allow your hands to move from presence to connecting.
Minute three: Notice how the feelings in your hands shift as they connect and relate to each other. Continue to connect your hands until there is a natural spontaneous arising to play.
Minute four: Allow your hands to move together and "play". See what arises in spontaneous movement and connection. Notice how your attention retains presence as connection and play continue to spiral deeper.
Minute five: Deepen your practice using your hands with presencing, connecting and playing so that you retain the basic flow of this natural practice.
Complete your practice by presencing your hands, connecting your hands, and committing to engage in this activity for a month to build a basic muscle of presencing, connecting and playing.