5-Minute Try It: Presence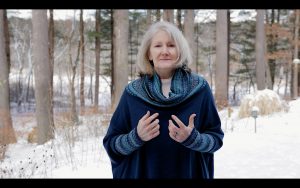 Click photo for video!
PURPOSE: Continuing the flow of Presence Connect Play from Kathlyn Hendricks, we dive deeper into Presence.  Presence is where we live life when we are fully engaged. Full engagement allows optimal joy, love and meaning to flourish.
PREPARATION:  Remember the purpose of Presence Connect Play offered from last month. Bring your "hands practice" to this month's offering.  Recognize that there is no "end point" to presencing; presence is an always and forever practice. Presence allows us to authentically connect.
Minute one: Locate your body and begin with a body scan from the top of your head to the bottom of your feet. Imagine a light breeze moving through your body – gently and completely. Once your scan reaches your soles, ground deeply in the earth visualizing roots shooting to the center of the earth.
Minute two: Bring the scan back up your body with the same gentle breeze to the top of your head. Intensify the felt sense of your body-skin and the interior of your body. Become familiar with your body envelope.
Minute three: Using your body-skin as the boundary, notice all sensations, in particular, pressure, temperature and movement. What lights up in your body?
Minute four: Give attention to the sensations you notice, be present with what is happening. This practice strengthens body awareness and the capacity to Presence, to "know" what sensations are communicating to us.
Minute five: Float this question: What is my body offering me right now through sensations as I presence what is?
Complete your practice by honoring presence as an essential practice to be here, embodied, with what is – as presence.