Five-Minute Try-It: Get Interested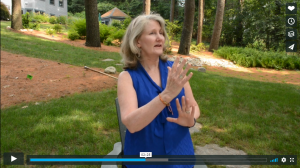 Click photo for video.
PURPOSE: Activate your interest muscle and experience the vibrancy of authentic interest.
PREPARATION: Be alone without interruptions; comfortable clothing preferable.
Minute one: Stand upright with a straight spine, mimicking a tall pine tree – a line of energy moving down from the heart into the earth and from the heart through the top of your head to the sky.
Minute two: Allow your eyes to wander, taking in the sights around your space. When your eyes meet something that attracts you, stop with interest.
Minute three: Sense the object or space with gentle eyes, looking with interest at whatever you see.
Minute four: What thoughts, feelings and sensations arise in your body as you deepen your interest in this object?
Minute five: Keep your interest on this object vacillating between the object and every experience that arises in your body.
Complete your practice by noticing what happens to the object. Is it separate? Compare this experience of interest with your typical way of being interested.
Daily 5-Minute Practice: Practice Getting Interested daily. I suggest you set a timer for three different times (AM, afternoon and evening) as a way to give full attention to getting interested.