Five-Minute Try-It: Connecting with the Earth – Lying Down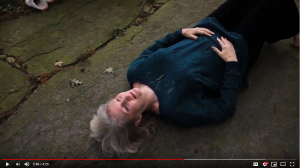 Click photo for video!
PURPOSE: Build a deeper relationship with the earth.
PREPARATION: Lie down on the ground on your back, with knees bent and feet flat. Get comfortable in the lying-down posture. Commit to relaxing and releasing, fully and completely.
Minute one: Feel the comfort of being held by the earth, allow tension to arise and release.
Minute two: Return to our mantra – releasing, receiving, connecting, co-creating – speaking the words in your mind. Emphasize releasing and receiving as your body relaxes even deeper.
Minute three: Allow the flow of releasing and receiving to open your body further to earth connection and co-creation.
Minute four: Add connecting and co-creating to your mind's expression. Releasing, receiving, connecting, co-creating. Pause after each expression to fully digest the body experience.
Minute five: Let go of the mantra expression and simply feel the relaxed, open and full relationship with the earth.
Complete your practice slowly sitting up, staying present in the sitting posture, feeling and expressing gratitude for the connection, and slowly standing up. Notice the difference in connection in standing, seated and lying-down posture.